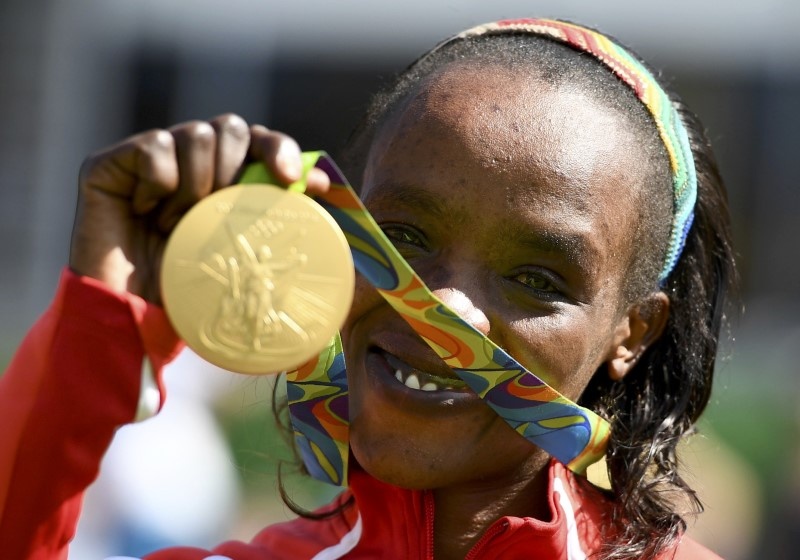 07 de abril de 2017, 15:47London, Apr 7 (Prensa Latina) The Olympic champion in the marathon at the Olympics in Rio de Janeiro in 2016, Kenyan cross-country runner Jemima Sumgong, turned out to be positive for doping, said the organizers of the London Marathon.
The news comes in the wake of a four-year ban handed to Kenya's multi-marathon champion Rita Jeptoo, Sumgong's former training partner, after she tested positive for EPO in 2014.
Sumgong will, therefore, not run in London on April 23 to defend the title she won a year ago.
"The IAAF can confirm that an anti-doping rule violation case concerning the athlete Jemima Jelagat Sumgong has commenced this week", the IAAF said.
This is yet another blow to Kenya which has seen more than 40 of its athletes fail doping tests.
IAAF is conducting another test on her sample B and if she failed, she will be banned and stripped of the gold.
"We can only hope the "B" Sample will come out negative since this is sad coming from a top elite athlete", said Chemos, who advised fellow athletes to look at their biological passports well before they engage in doping.
Sumgong was due to run in this year's London Marathon, but will now not take part.
A statement from Nick Bitel, the chief executive of London Marathon Events Limited said: "We are extremely disappointed to learn that Jemima Sumgong (Kenya) failed an out of competition drugs test in February". She is now the leader in the Abbott World Marathon Majors (Abbott WMM) Series X standings which concludes in Boston on April 17. The decision on whether she will win the award has now been put on hold pending the conclusion of her doping case.
Olympic marathon champion Jemima Sumgong tested positive for the blood booster.
Yet again, another Kenyan athlete has tested positive for a banned substance, and this coming only two months before the country hosts the IAAF World Under-18 Championships.
The Kenyan won last year's race in 2:22:58.
The 32-year-old Sumgong's victory in Rio capped an outstanding performance by Kenya in track and field at the Olympics, when the country finished second to the United States in the medal table.
Last year, Kenya was declared in breach of anti-doping rules, and athletes underwent special testing for Rio 2016.