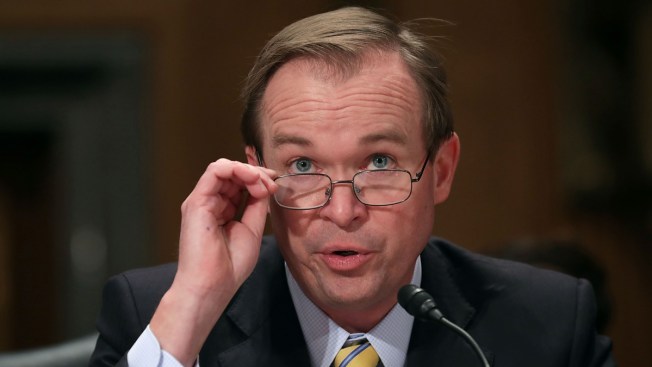 "It's something we said we were going to do on day one, and we're following through well within the end of the 100-day period", Mulvaney said.
The federal hiring freeze put in place by President Donald Trump just as he entered office is being lifted.
In a lengthy OMB memo distributed Wednesday to heads of departments and agencies, Mulvaney said supervisors are tasked to send the White House plans to "maximize employee performance" and adhere to Trump's spending reductions, including "long-term workforce reductions", by June 30. "It has grown organically over the course of the last 240 years, and the President of the United States has asked all of us in the executive branch to start from scratch, a literal blank piece of paper and say, if you're going to rebuild the executive branch, what would it look like".
The Trump administration plans to call for a major overhaul of the executive branch that would include giving agencies more flexibility to hire and fire employees, the president's budget director said Tuesday.
Mulvaney, reflecting the optimism of the Trump administration, added: "This [refocus from hatchet to scalpel] is a big part of draining the swamp". Mulvaney explained that half of the Freedom Caucus wound up supporting the plan while some moderates wound up backing off of their support because they felt the Ryan plan was too conservative.
While there are many efforts to make government better, Mulvaney said, "this is something that goes much deeper and to the very structure of government".
The federal government is expected to spend $4.091 trillion in the year that begins October 1, but around 70 percent of that will go toward Social Security, Medicare, Medicaid, interest on the debt and other programs that must be funded. The ban will be replaced with a "smart hiring plan", which requires each agency to reorganize itself in compliance with the larger goals of the administration and the budget. Many large-scale changes to the government - for example, a consolidation of offices with similar missions - would have to be approved by Congress.
Mulvaney indicated that both the departments of Defense and Veterans Affairs - both slated for sizable funding increases in preliminary budget plans - could see increased staffing under the reorganization plans.
Mulvaney wouldn't give specific details or figures on job cuts, but said efficiency is the name of the game. Democrats have so far opposed almost every Trump proposal. Senior leaders at both departments have said the hiring freeze did not damage their ability to conduct daily priorities, but have conceded minor problems with staffing and operations as positions were stalled.
An April 12 memorandum provides guidance to federal agencies tasked with complying with the Reorganization Executive Order entitled "Comprehensive Plan for Reorganizing the Executive Branch" as the January 23, 2017 hiring freeze is lifted.