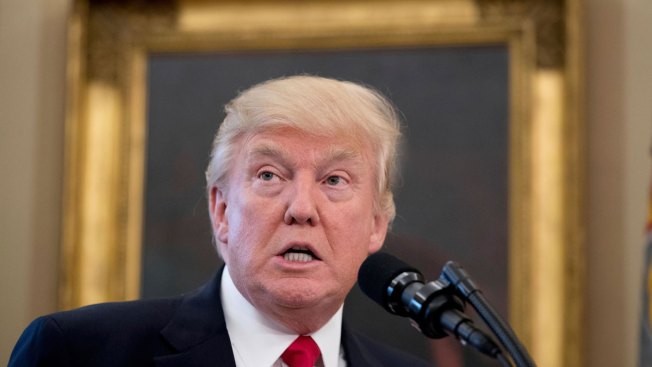 President Donald Trump marked the National Day of Prayer on Thursday by signing an executive order repealing the Johnson Amendment, which targets religious leaders who engage in political speech by threatening their tax-exempt status.
The 45th President of the United States unveiled the Promoting Free Speech and Religious Liberty order, which will allow religious leaders to have a more active role in American politics. The Church of Jesus Christ of Latter-day Saints has been and remains committed to political neutrality.
"In order to guide all agencies in complying with relevant federal law, the Attorney General shall, as appropriate, issue guidance interpreting religious liberty protections in Federal law", the order reads.
The order, which President Donald Trump signed Thursday at the White House on the National Day of Prayer, effectively reverses a 1954 regulation called the Johnson Amendment that prohibited houses of worship and faith groups from endorsing or opposing candidates.
The order also offers "regulatory relief" for health care providers who don't want to provide birth control, for religious reasons.
Opponents, however, fear it is a big step back for democracy and could entice religious leaders to take political positions, casting a shadow on their credibility as spiritual leaders. "We are giving our churches their voices back", he said.
The White House has not yet released the full text of the order, but it appears to fall short of what religious conservatives expected from Trump, who won overwhelming support from evangelicals by promising to "protect Christianity" and religious freedom.
A spokesperson for the Interfaith Alliance of Iowa told KCCI, "President Trump's executive order is unsafe and ill-advised for the government's interest and for houses of worship".
In more recent decades, as a part of this law to exempt religious organizations from paying taxes, the US has required they can not publicly endorse political candidates.
"The actions taken today are a broadside to our country's long-standing commitment to the separation of church and state", the organization said.
Update, 5:57 pm: The ACLU will not be bringing a lawsuit over the executive order, which it describes as "an elaborate photo-op with no discernible policy outcome".
In a letter delivered to House and Senate leaders last month, a group of religious leaders argued against scrapping the Johnson amendment, citing similar concerns that such a move could turn religious groups into political organizations.
Organizers said more than 1,000 evangelical leaders were attending the conference, created to mobilize religious conservative voters ahead of the upcoming midterm elections and the 2016 presidential contest.
"Whether by executive order or through backroom deals, it's clear that the Trump administration and Congressional leadership are using religion as a wedge to further divide the country and permit discrimination".
He said he was "directing the Department of Justice to develop new rules to ensure these religious protections are afforded to all Americans".
That's because they were wary of the Johnson Amendment, which is indirectly addressed by Trump's order. "We must never infringe on the noble tradition of change from the church and progress from the pew", the president said.
"A crippling financial punishment", Mr Trump said ahead of his signing, adding "very, very unfair".
The legislation leaked in February meant to allow people and businesses to register their religious objections to nearly any situation in a move that campaigners argued would allow people to discriminate against LGBT people and claim religious grounds for doing so.
An adjustment to the Internal Revenue Code - which was adjusted in 1986 but continued to include Johnson Amendment - would require an act of Congress, but Trump can influence how it is enforced.