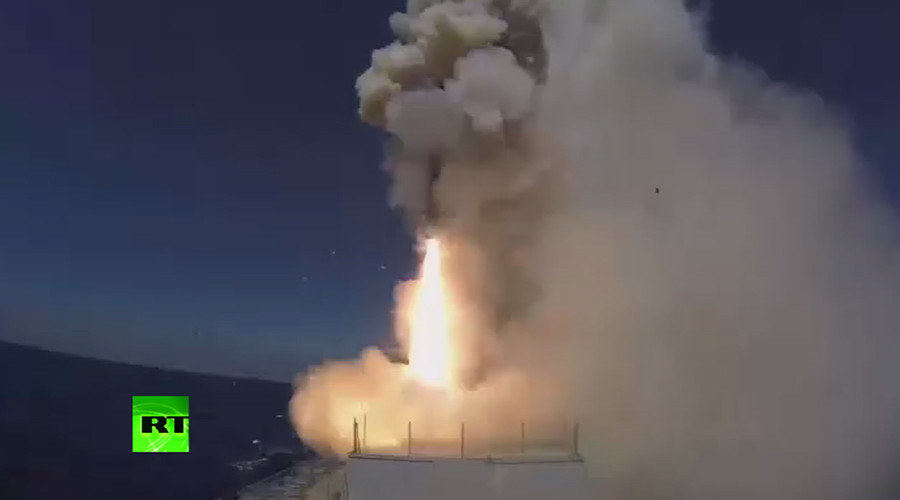 The missiles destroyed heavy equipment and killed fighters that Islamic State had transferred from its stronghold, Raqqa, to Palmyra, the Russian Defense Ministry has said.
A Russian warship and submarine have fired cruise missiles at Islamic State group targets around Palmyra in Syria from the Mediterranean, Moscow said Wednesday, the first such strikes announced in months.
The statement said the strike "confirmed the high combat readiness of the Russian Navy forces", and noted that the US, Turkey and Israel were informed of the strikes at the "appropriate time".
The Russian Navy also fired Kalibr cruise missiles on militant positions in Syria previous year.
Moscow supports the embattled government in Syria and its President Bashar al-Assad.
In response, the U.S. leader gave orders to fire 59 cruise missiles at the Sharyat military base, southeast of Homs.
Russian Federation has shared details of a series of missle strikes against Islamic State in Syria.
A plume of smoke rises over the Baalshamin temple in Palmyra in a photo released on August 25, 2015 on a social media site used by Islamic State militants.
According to the Defense Ministry, the submarine fired missiles from underwater.
The Russian military reported the successful defeat of the target.
That's hardly the only movement on the ground of this complicated and multi-faceted civil war.
"All targets have been hit", the Defense Ministry said.
They eventually regained the city this March, but fighting continues nearby.
During the ISIS occupation, the head of the city's archeological program was beheaded by the terror group, while one of its most important Roman temples, the Temple of Bel, was destroyed in a public act of vandalism for a propaganda video.