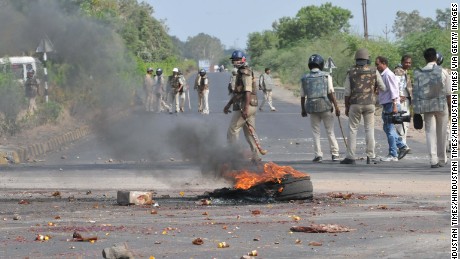 In an effort to restore peace amid raging farmers' protest, Madhya Pradesh Chief Minister Shivraj Singh Chouhan began his indefinite fast at the Dussehra Maidan in Bhopal on Saturday. The chief minister reached the venue on Saturday morning with his wife and was accompanied by some other ministers as well.
Expressing grief over the escalating farmers' agitation, the Chief Minister said that he is open to discussions with them and is sitting on the ground as he understands their pain. "Bargarh district is the land of farmers".
Farmers' protests started last week in Mandsaur over demand for better prices for their produce and debt relief. On Tuesday, police had to resort to firing when the protesters turned violent and damaged property and set vehicles on fire.
"Shivraj Singh Chouhan's fast is a drama.It is a sham, he should answer why a case of murder has not been filed in the death of five farmers in Madhya Pradesh", party spokesperson Randeep Surjewala told reporters here.
The chief minister reiterated that he wants farmers to come and talk to him at the Maidan. A pandal was erected at BHEL, Dussehra Maidan in state capital Bhopal from where Chouhan will run his government.
The Opposition has slammed Chouhan's decision to go on fast.
Various farmers' organisations from around the country will be assembling in Ratlam on Sunday to support the ongoing unrest in Madhya Pradesh and pay tributes to the farmers killed in police firing. "Instead of indulging in gimmicks Chouhan should seriously address the problems of the farmers", a Congress official said.
The reproduction of the story/photograph in any form will be liable for legal action.