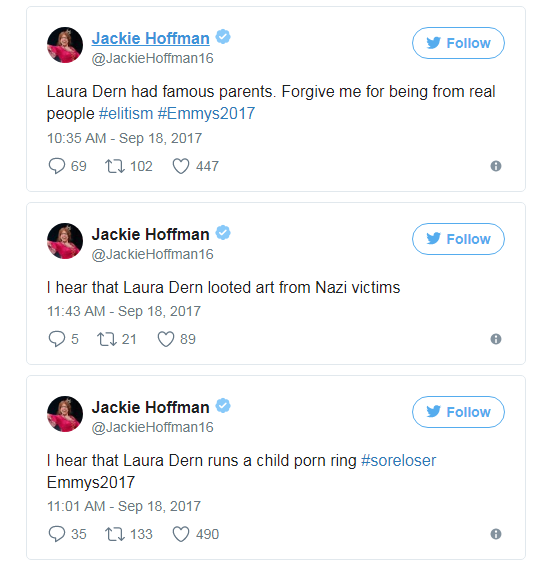 The other night, The 69th Annual Primetime Emmy Awards aired on CBS, hosted by Stephen Colbert.
On camera, Hoffman was seen visibly repeating, "Dammit!" after Dern's win. She then went on to thank Nicole and Reese's mothers, praising them 'for not only giving us extraordinary women but really well-read women because that's how I'm getting my parts.
After the ceremony she tweeted a series of claims about Dern with the hashtags #elitism and #soreloser. "DAMN IT!" after presenter Riz Ahmed crushed her Emmy dreams and announced Big Little Lies star Laura Dern as the victor instead. Shortly afterward, Hoffman took to Twitter to launch into a tirade that many users took at face value.
When serious reports started surfacing of Hoffman's reaction, the Feud star set the record straight, tweeting, "I hear the media actually taking my reaction seriously?"
To be sure, this was not the last of Hoffman's reaction to losing the Emmy.
Though many Twitter users may have taken Hoffman seriously, however, Hoffman was likely channeling her character Mamacita, Joan Crawford's loyal maid in Feud: Bette and Joan, as well as paying homage to Crawford's infamous 1963 Academy Awards pettiness. Fortunately for us, Hoffman did not hold back her disappointment. But don't worry just yet - she's only kidding.