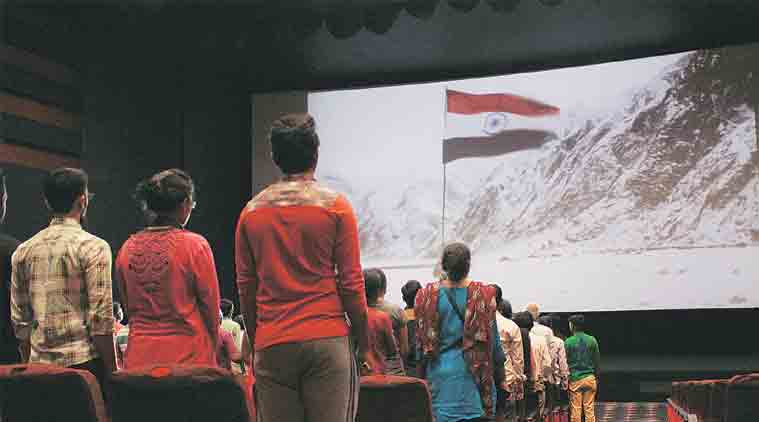 In a major departure from its order mandating cinema halls to play the national anthem before screening of any movie, the Supreme Court on Monday said such a direction, if at all, has to come from the Government.
The court also observed that not singing National Anthem at the movie theatres was not a sign of anti-nationalism. People with disabilities are exempt from standing during the anthem but the government issues guidelines on how they can show respect when the national anthem is being played. This is obviously because a cinema hall is a place for entertainment. people go to cinema halls for undiluted entertainment. Justice Chandrachud's remarks have done well to remind us that love for the country need not be tested at every turn and that symbolic displays of nationalism are, in certain contexts and spaces, a curb on individual freedoms. On October 23, however, while hearing a petition by a film society against the 2016 judgement, Justice D.Y. Chandrachud asked: "Why do people have to wear their patriotism on their sleeve?" You can amend it and say where to play national anthem and where it can't be done.
"What stops you from exercising your power".
Justice Chandrachud disagreed. He said Article 51A is very broad and also makes it the fundamental duty of citizens to "develop scientific temper, humanism, spirit of inquiry", etc.
It said that it will not permit the government to "shoot from its shoulder". Citizens can not be forced to carry patriotism on their sleeves and courts can not inculcate patriotism among people through its order.
However, Venugopal said the government would take a call. As Justice Chandrachud points out, the conflation of entertainment with mandatory displays of patriotism defeats the objective entirely. The order, delivered in November 2016, was a sad commentary on the top court's credentials as the ultimate arbiter of individual rights. Reacting on the Apex Court's suggestion to the Centre to take a call on the issue, Owaisi told media persons here that showing respect when National Anthem is played on August 15 and January 26 is mandatory, but not in theatres. We do not know what the government wants.