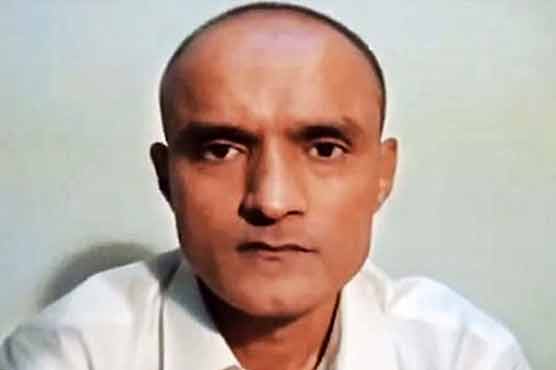 Earlier Monday, foreign minister Khawaja Muhammad Asif told a Pakistani media channel that Pakistan has granted India consular access to Jadhav since an Indian diplomat will be accompanying the prisoner's wife and mother.
Pakistan Foreign Office spokesperson Mohammed Faisal tweeted images showing Jadhav speaking to his mother Avanti and wife through an intercom with a glass panel separating them.
Jadhav's wife and mother later left for the Indian High Commission before leaving for India.
They are accompanied by Indian Deputy High Commissioner JP Singh and three Indian foreign ministry officials, according to reports on Indian media.
Pakistan has deployed security and traffic personnel within and outside the FO in view of the meeting.
During a press conference, the foreign office spokesperson made old allegations against Jadhav. Monday was the fist time that Jadhav met his family since his arrest in March.
India asked the International Court of Justice (ICJ) in May to restrict Pakistan from executing Jadhav, arguing he was denied diplomatic assistance during what it called an "unfair trial".
Faisal said that since Pakistan has allowed Jadhav's family to meet him, India should also allow the families of detained Kashmiris to meet their relatives.
The meeting was scheduled for 30 minutes, but it was extended for 10 more minutes on the request of Jadhav and his family members, the spokesperson said. The mother and wife of Jadhav were being provided with a meeting with him in the light of "Islamic traditions and based on purely humanitarian grounds", Faisal had said. It was an open meeting, we are looking forward to a statement from Jadhav's family, Kale added.
"The meeting was very positive and they (Jadhav's mother and wife) were satisfied". Television footage showed a convoy of around seven vehicles escorting Jadhav's family after they arrived in the city.
He also showed a medical test of Jadhav conducted on December 22 that he was in fine health.
Times of India cited Asif as saying that the reason the meeting is taking place is because Pakistan didn't want India to create the impression that Jadhav was denied access to his family, especially since the spy's case is now being heard at the International Court of Justice (ICJ).
On the question why a glass wall was put between them during the meeting, he said it was done "for security reasons".
The ICJ suspended the execution, pending final judgment by the court. Pakistan claims its security forces arrested Jadhav from its restive Balochistan province after he reportedly entered from Iran. In India, officials however downplayed the comments by the Pakistani minister, maintaining that an Indian diplomat was only accompanying Jadhav's family and it can not be construed as "consular access".