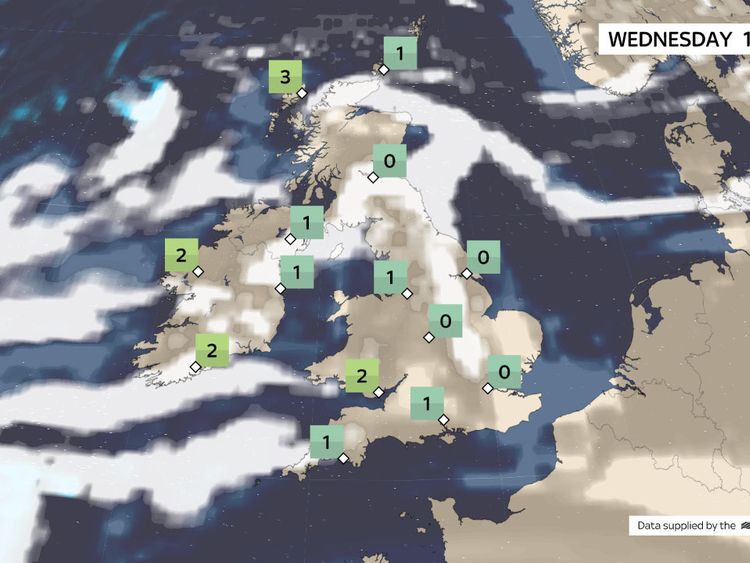 Britain is enduring another day of sub-zero temperatures as Storm Emma rolls in from the Atlantic as red weather warnings are issued for the South West and South Wales - in addition to Scotland.
The highest possible level of weather warning has been applied to parts of south west England and south Wales, after being issued to central Scotland and parts of Ireland yesterday.
Previously the western edge of Cumbria was not included in the warnings.
The warning expired a day after a similar warning for Scotland came to an end, while at 10am today two amber warnings for the south-west and for Scotland also came to an end.
The yellow warning was in force at 9.55am today and ceases at 11.55pm tonight.
The chief forecaster said: "Frequent snow showers are likely to continue feeding in from the North Sea on a very cold easterly wind".
The Met Office is also warning of the potential for some rural communities to become cut off, and that power cuts and disruption to mobile phone services may occur. "Long interruptions to power supplies and other services".
Schools, creches and colleges will remain closed on Friday while no public transport will be running.
Sheffield schools closed again because of snowThe Met Office has this morning updated a weather warning relating to a band of snow moving north across the country this afternoon and this evening.
The Met Office warned that disruptions were still likely in the coming days.
A red weather warning - the second in 24 hours - expired at 2am, but amber warnings for snow are still in place for much of Scotland, the north-east of England, and parts of Northern Ireland, running until 10am, and for wind and snow in south western parts of the United Kingdom until 8am.
It is expected that the mercury could plummet to minus 15C by midweek where there is snow on the ground, rivalling temperatures forecast for parts of northern Norway and Iceland.
NHS 24 is advising people to take a few simple steps to stay well during this blast of wintry weather and what to do if illness does strike.
"Strong winds will lead to drifting of snow and severe wind chill, while lightning could be an additional hazard, particularly near coasts".
A seven-year-old girl became the latest to die during the severe weather.
Transport Minister Humza Yousaf said people should avoid travel unless essential and warned the weather is due to worsen.
There is a further warning for ice, from midnight until 9am tomorrow (Saturday).
Edinburgh Airport also tweeted to say most airlines have cancelled their operations had cancelled flights from there until lunchtime on Thursday.
Motorists have been warned to take extra care on the roads due to the snowy conditions, after four people died in vehicle crashes amid the heavy snow.
The Met Office meteorologist Steven Keates said: "We are not out of the woods yet".